Columns
The column is the basic module of every shelving unit and the assembly basis for all other components – without it, nothing works. Depending on the load you want the shelf to carry, you can choose from different depths. The following applies: the deeper, the higher the load-bearing capacity. So that you can adapt each shelf individually to your room conditions, different column heights between 140 and 300 centimetres are available.
ASSEMBLY
Either you decide on a floor-standing shelf and connect the column with a footboard or you use the column alternatively as a wall rail for pure wall mounting.

Numerous practical accessories such as column connectors, tube inserts with foot plates, wall fixings and end caps enable you to combine shelving units in a modular way and to extend or rearrange parts already purchased as required.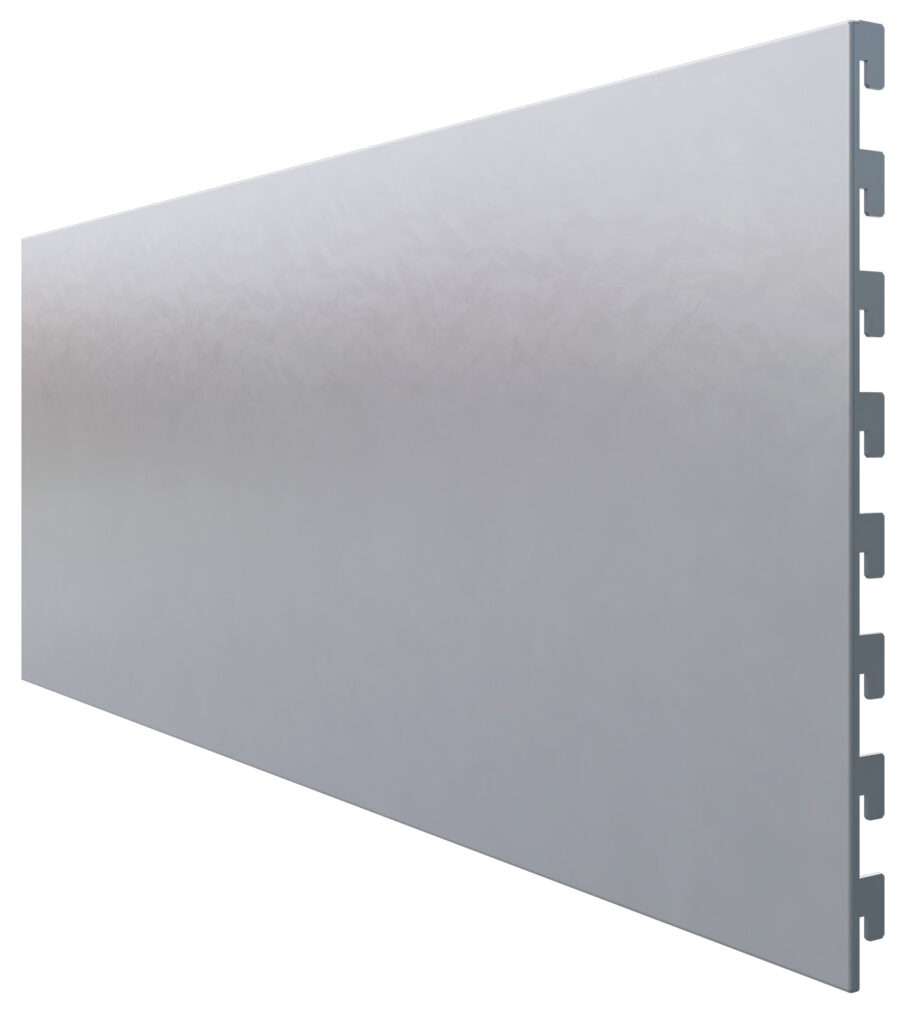 Back panels smooth or perforated
With the back walls you connect two columns with each other This is then used to create the so-called back wall assembly.Back panels not only increase the stability of your shelving, but can also take on the practical task of supporting other attachments such as hooks. For this reason, you have the choice here between the smooth steel back panel and back panels of the type round perforation (RL) and key perforation (SL). You can buy back panels in heights from 10 to 40 centimetres and in widths from 62.5 to 133 centimetres.
ASSEMBLY
Simply hang a back wall in two columns. It is best to start from the bottom and work your way up bit by bit.

In addition to single hooks and double hooks in various designs, you can also choose gondola covers for the attachments.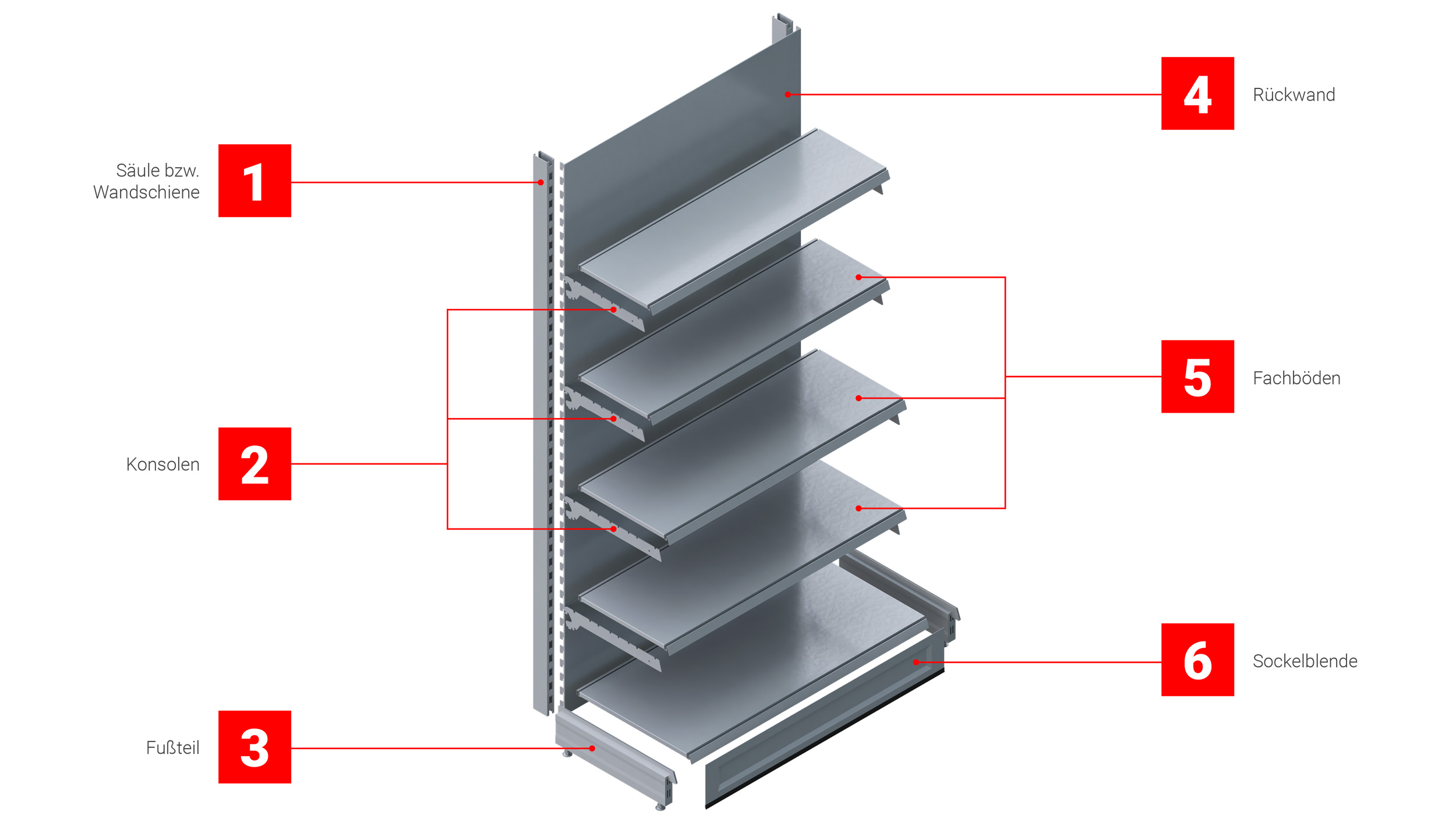 Consoles
The so-called console corresponds to the suspension for the shelf. Both parts together form the shelf assembly. You can mount each bracket not only straight, but also at angles of 20 and 35 degrees. You always buy consoles as a pair. The assortment ranges from depths of 20 to 77 centimetres and also includes versions for heavy loads. The normal version is usually referred to as 2H and the heavy-duty version as 3H.
ASSEMBLY
Extremely uncomplicated: Simply hang the brackets anywhere in the columns so that they are inserted in pairs in the left and right columns at the same height. The minimum vertical distance between 2 consoles (and thus between 2 shelves) is 5 centimetres.

Attention: Special models are available for wooden and glass shelves. See also under: Angle bracket for wooden and glass shelves


Steel shelves
The shelf forms the heart of the shelving unit. Depending on the intended use, you can choose from a wide variety of designs: In addition to the classic steel shelves, there are also models made of wire, wire grid shelf or the so-called endless basket, but also versions made of glass and wood. You can purchase shelves in depths from 20 to 77 centimetres to match the consoles. Like the back panels, they are also available in widths from 62.5 to 133 centimetres.
ASSEMBLY
Simply hang the shelf in the prepared brackets. But beware: For glass or wooden shelves you need additional supports.

To keep your shelves tidy, you can equip them with suitable accessories, for example a front panel, price rails or dividers.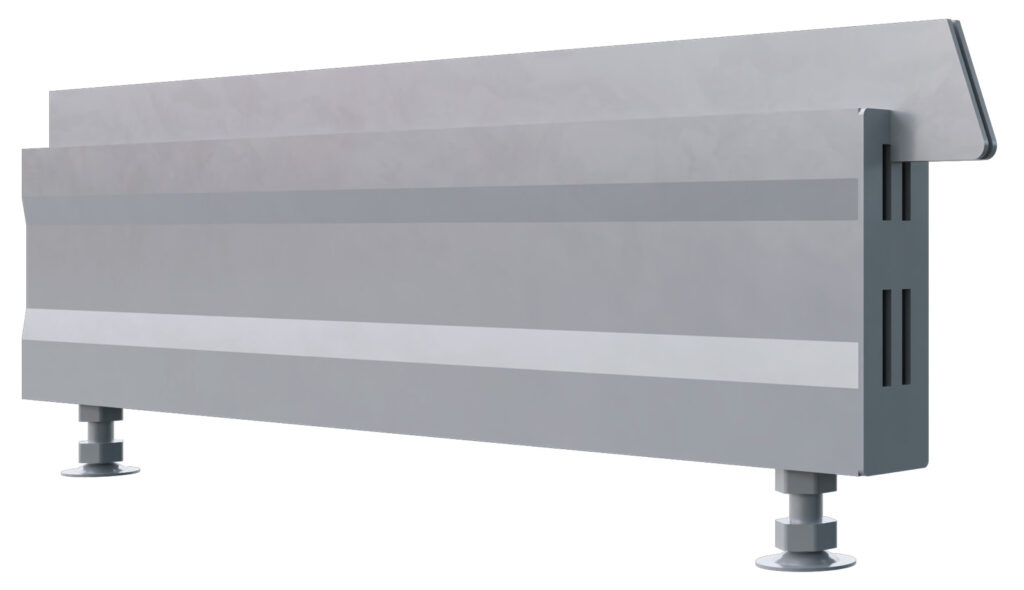 Foot sections
Das Fußteil bildet zusammen mit einem montierten Fachboden den Sockel bzw. die Sockelbaugruppe des Regals. At the base you will find height-adjustable screw feet with which you can adapt your shelf to any floor situation and align it straight. You can choose between heights of 8 to 26 centimetres and a foot section depth of 30 to 77 centimetres to ensure that your shelf is stable.



ASSEMBLY
Simply connect the foot section to the columns.

You can extend the base section with practical accessories: for example, plinth panels ensure that less dirt collects under your shelf and so-called deflectors protect your shelf from damage by shopping trolleys. You can also use the storage space between the footboards efficiently with a footboard section drawer.